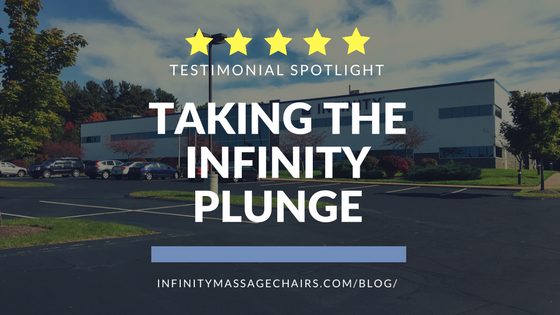 We recently received a stellar review from Linda, a fellow Consumer Electronics Show (CES) exhibitor who purchased the Infinity Imperial at the event earlier this year. See what she wrote to her sales reps, Rich and Page, below:
Excellent news. I love my Imperial chair! I was the woman who exhibited aLOKSAK waterproof bags about two isles from you at CES in the Sands Convention Center. Remember, the woman who came back several times to admire the chair and was trepidant to purchase?

When my massage therapist and best friend told joined me at CES, and told me she just purchased an Infinity chair, the only chair she swears by, who also shops at thrift stores for clothing and sits in a cold house to save money on electric, I was more than impressed. She is responsible for me taking the plunge to purchase the Infinity Imperial.

My daughter was in an accident and rear ended by a truck doing 40 MPH about 8 months ago. The pain she suffers in her neck and back continue to be unbearable.

I told her about my chair, so she drove the 2 hours to my home to see if it would help. I received a text at work saying, "That chair totally changed my day. It brought tears to my eyes knowing something like that exists. It is amazing."

Whoever enters my life hears about the Imperial.
Thank you for the wonderful feedback, Linda! We are so happy to hear your Infinity Massage Chair had such a positive impact in your life.
If you're ready to improve your own quality of life, Add a massage chair to your daily wellness routine so you can feel great every day. You can chat with one of our Massage Chair Specialists at 888-957-2243.Or Shop Now by Clicking Here