Relaxing During the Holidays: It's Possible!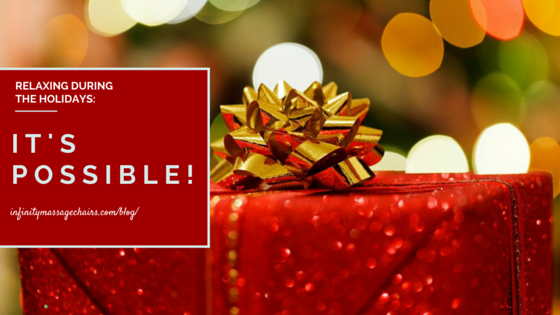 The holidays are upon us, and once again we find ourselves bustling! While it's a happy time of year, it can also be stressful. Planning, prepping, and shopping for gifts take a toll. It's only November, but it seems to start earlier every year!
Don't let the holiday hustle overwhelm and stress you out! Regardless what you have to do, you deserve some YOU time. Treat yourself with your own Infinity Massage Chair—order now while everything is still in stock. Are you considering buying a massage chair for someone special? Get ahead on your holiday shopping by placing your order today to guarantee delivery before Christmas!
It can be a stressful time of year, but you can improve the experience and truly relax when you buy a massage chair from Infinity. Add a massage chair to your daily wellness routine so you can feel great every day.You can chat with one of our Massage Chair Specialists at 888-957-2243.Or Shop Now by Clicking Here.
And don't forget to stay tuned for more great holiday ideas!